For many years, I worked at an advertising & public relations agency. I was a "suit," not a "creative." In other words, I managed the clients and provided input to the art directors and copywriters, who translated this input into ad concepts, slogans and commercials. The magic.
(For the Mad Men fans out there, I was a boring, monogamous version of Pete Campbell, who provided input to the Don Drapers and Peggy Olsens.)
I spent a lot of time writing "creative briefs" – the strategy and detail documents that guided the efforts of the creative team, keeping the message accurate and on strategy.
When I left the agency to run marketing at a logistics firm, I got away from the discipline of first writing a "brief" whenever I was asked to develop a brochure, video, or other communications piece. That's until my digital marketing manager, Peter Ingersoll, wondered why we kept asking our subject matter experts to answer the same questions about the same service for different communication projects.
"Can't we just write this stuff down so we don't have to keep asking – kind of like a source document?"
Duuhhh.
So, I took my old creative brief template from the agency, added a few details and called it the "IngerSource" document. There is nothing unique or sexy about the IngerSource.
Download it here and you'll see what I mean.
It simply documents those things that marketers and communicators need to know, like value proposition, target audience needs, competitive differentiators, and features & benefits.
The Creative Brief Template
The challenge of completing the IngerSource, and doing it well, is getting the right people to sit still for 60-90 minutes while you capture the details and craft the creative strategy together.
Here's why it's important to demand this discipline:
It forces you to think strategically about how to distinguish your product or service.
It's easy for your experts to say, for instance, "We help shippers find freight capacity in a tight market," Well, okay, but what about the 437 zillion companies who do the exact same thing? You, the marketing person, need to demand clarity up front about strategy and message. An IngerSource-like creative brief template forces this discipline. Without it, you build the runway for lots of me-too copy and dull, ineffectual communications.
It saves enormous amounts of time.
We marketers create lots of stuff – web copy, blogs, white papers, video scripts, presentation slides, etc. With the IngerSource, there is no need to seek additional input from subject matter experts for different communication projects. This saves you, and them, valuable time and avoids the embarrassing question: "Didn't we cover this already?"
Developing Creative Communications is Like Making Sausage
Mark Twain once said, "Those that respect the law and love sausage should watch neither being made." That reminds me a bit of the creative process. Communications, even about logistics, can be entertaining and powerful in the end. But getting there requires strategy discussions, fact finding, and other seemingly humdrum activities.
Regardless of who develops a piece of communications, you or someone else, start the process with discovery. Find yourself a good creative brief template, if you don't already have one, and use it religiously.
Your sausage will taste better for the effort.
---
Free eBook: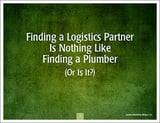 Finding a Logistics Provider Is Nothing Like Finding a Plumber (Or Is It?)

Download the eBook
---