The biggest obstacle to winning logistics sales opportunities is not your 3PL competitor, it's your prospect's fear of change. The dreaded status quo.
A quick anecdote:
My wife loves the HGTV (home and garden) channel and, I admit, I've been sucked into that house hunting/building/fixing/decorating vortex.
One of the network's more popular shows is "Love It or List It." They find a family that is not happy with their home and do two things: a designer makes some changes to the home to make it more "liveable" and a real estate broker shows them houses that work much better for them – often larger houses to accommodate a growing family.
The family is then left with a choice. Do they love it (stay where they are) or list it (list their home for sale and move to one of the identified properties).
The vast majority of the time, the family "loves it." They stay right where they are, despite what seems to be a clear, practical need to move.
When asked why they decided to stay, the families typically say they like the new design. But they never voice the operative reason – FEAR OF CHANGE.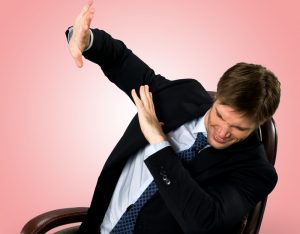 People hate "new." It's scary.
That applies to real estate sales and it applies to logistics sales, where by far the most fearsome competitor we face is the status quo.
Companies invest time and energy to explore a change – new carrier, new warehouse provider, new software – but in the end they do nothing at all. Meanwhile, logistics businesses invest thousands, sometimes tens of thousands, of dollars to chase accounts that, very often, can never be caught.
Top 5 Signs That Prospects Are Unlikely to Buy
So, how can you determine, early in the bid process, if prospects are unlikely to make a change?
To help with that answer, I asked a number of my logistics sales colleagues to offer up some tell-tale signs. I had a tremendous response to my request. This is clearly a hot button issue out there in logistics sales land. Based on their responses, following are the top 5 indicators that your prospects will love it, not list it.
#1 – No broad business support.
If you haven't met the company's top executives and business unit leaders, it could indicate that this is not a strategic initiative with full backing.
"Given the complexity of the 3PL environment, a warning sign for me is when the logistics guys run the process in a vacuum, keeping their critical stakeholders out of the process." – President, TMS software company
"You want and expect discussions with the 'users' of the service. That sometimes doesn't happen when Purchasing administers the bid." – Sales VP, national 3PL
#2 – No strong motivation.
If the impetus to change is not compelling, then change is unlikely.
"I am always leery if there is no defined strategy that supports a needed change in the current supply chain model." – VP/Sales, large, national 3PL
"The more detailed the challenge they are looking to solve, the more serious I take the opportunity." – VP/Sales, mid-sized 3PL
#3 – No issues with current provider.
Some companies mechanically go through a bid process regularly, either because of a corporate policy or to gain price leverage over their current partner.
"If they regularly put the business out to bid, but have had the same 3PL for years, it's probably gonna stay right where it is." – VP/Sales, large freight forwarder
"If the service is good, change isn't likely. Who's going to risk their career and potentially put service in jeopardy?" – COO, national fulfillment company
#4 – No investment of time.
If your contacts with the prospect are limited to phone and email and no face-to-face meetings, this unwillingness to invest time and effort on the bid process may signal a lack of commitment to make a change.
"If the prospect does not want to invest time pull data and discuss solutions, it's likely price benchmarking." – CMO, Mid-Sized 3PL
#5 – No data.
Poor data or an unwillingness to share detailed data may mean the prospect is not serious about giving you what is needed to provide a credible response and cost.
"Be wary of weak RFPs without a lot of meat. It signals a lack of commitment to the process." – Consultant, logistics consulting practice
Honorable Mention – Non-existent or quick timeline.
Interestingly, these two responses were chosen by an equal number of respondents. Both were seen as indicators of a dead-end logistics sales process. Lack of a timeline suggested a lack of urgency to change, and a rapid turnaround signaled, to many, a pricing exercise unlikely to result in a change.
"If they want a price quick but the last time they changed providers was during Lincoln's presidency, save yourself the time." – VP/Corporate Services, regional 3PL
Check the "Reason Lost" Field in Your Logistics Sales CRM
Do you have a "reason lost" field in your CRM – the field that tells you why you lost sales opportunities?
Check out the last years' worth of "closed/lost" opportunities and note the percentage of time the reason lost was "no change." A high percentage is not only frustrating; it's expensive for the business.
It's nice to see that pipeline dollar figure go up on sales reports. But if the pipeline is filled with unwinnable opportunities, it means you are investing heavily to chase business that can't be won.
Perhaps it's time to get more discerning about the opportunities we choose to pursue, and to bow out sooner when the unspoken signs indicate "NO SALE."
---
Free eBook:
Lead Generation for Logistics Services: Who's Job Is It, Anyway?

During a phone discussion on marketing with the senior executive of a large, warehouse-based logistics firm, I shared my perspective that many such companies make salespeople work too hard to unearth sales opportunities. After a brief silence, the executive said, tersely, "That's what I pay them for."
Download the eBook