If you want to know how to sell logistics services, the best people to ask are your potential customers.
A while back, I surveyed 200 buyers of logistics services on the best ways to communicate with them about logistics products and services. Their responses are outlined in this eBook.
Here are the major themes that emerged, and some candid quotes that capture your prospects' point of view.
Know my business.
This was the dominant theme. To sell logistics services, it helps to have a clear understanding of your prospect's industry.
"If you are not doing business with customers like me, I don't want to be your training ground."
"Bring an understanding of our products and how similar companies benefited from the engagement with your firm."
"Before starting a full conversation, know my business model, customers and needs. Generic sales pitches from rookies are a turn-off."
Give me a better price
No surprise here. Indications are that the respondents who chose this as their number one piece of advice were directing that advice mainly at carriers and brokers. But it's advice worth noting.
"The providers I work with are very similar. Show me a cost differentiator."
"Want to get my attention? Do it cheaper than the other guy."
Be honest.
Actually, this one was a little surprising. Why are providers still over-promising when they sell logistics services and products? Buyers today have become highly sophisticated and can quickly see through the hype.
"Don't tell me what you think I want to hear. Be completely honest."
"The 'all things to all people' approach is poison to me."
"Don't oversell with 'pie-in-the-sky" solutions."
Bring innovative solutions.
The responses indicated a belief that providers are good at the basics, but not great at surfacing truly innovative, value-driving ideas.
"We've pretty much heard all the ideas out there. Show me how you can solve a problem in a unique way."
"I find most 3PLs are great fire fighters but are not capable of recognizing a problem that is brewing and solving it before it blows up into a big issue."
More on how to sell logistics services
Examine your own approach to selling logistics services and products. Are you heeding the above advice?
Read the full research report: Marketing Logistics Services: 200 Buyers of Logistics Services Weigh In On How to Get, and Keep, Their Attention
---
Free eBook: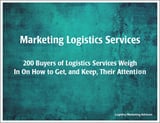 Survey Results: Buyers of Logistics Services Provide Advice on How to Get Their Attention

This new eBook summarizes the results of an online survey of 200 buyers of logistics services on how providers can improve their marketing and communication approaches.
Download the eBook
---