2016 Survey Results: Buyers of Logistics Products and Services Weigh In On How to Get, and Keep, Their Attention
Tepid economic growth has slowed new business opportunities for logistics businesses. Competition for buyers' attention is increasing exponentially.
Logistics marketers have to work smarter.
They have no choice.
So how do logistics companies break through the noise? The best place to look for advice is from the buyers themselves. So we asked over 100 director- and VP-level buyers of logistics
Our New eBook is Now Available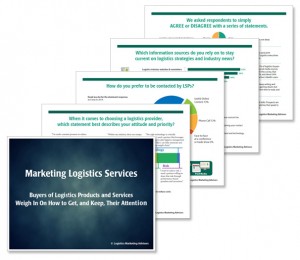 In our new eBook, we tell you what buyers of logistics services told us about how providers can improve their marketing and communication approaches.
Key questions answered include:
When choosing logistics service providers, what are your priorities?
How should LSPs contact you?
What frank advise do you have for service providers?
and more…
To learn how you can do it better, complete the form to the right and we will email you a link to access your free eBook.
This 2016 survey report is a follow up to our 2014 report.